How To Watch TV Without Cable 
This is a step-by-step guide on how to cut cable TV and start using alternatives to the cable networks. Whether you are a sports fan or HBO fanatic, we'll show you how you can watch live sports or HBO on Sling TV free for 7 days so you can get a taste of cordcutting.
Now let's cut cable TV by showing you how it easy it really is to do. So bookmark this webpage right now, because your TV viewing lifestyle is about to change forever, and this is how. Just remember 4 little steps.
Get Rid Of Cable In 4 Steps 
Step 1 :Get Familiar with Streaming Players for Home TV
The first step is familiarizing yourself with the different kinds of streaming player for TV viewing in the home. Streaming players, such as the hot new Roku 4, will allow you to watch all the best streaming content via services like Sling TV, Hulu, Netflix and Amazon Prime.  By the way, now is a great time to try out Sling TV which is running a promotion right now with a Free 7 Day Trial.
A streaming player is the modern equivalent to a cable box, only it is a replacement that allows you to view most cable TV alternatives with your existing TV. Your home will have full access to streaming content from around the world, only a streaming player is smaller and you own it. The low cost of streaming players eliminates equipment rental fees, plus there are several version to choose from.
My personal favorite streaming device is the Roku 4, which allows for digital cable TV alternatives and also is ready for online gaming hook ups. Although the Roku 3 and the Roku streaming stick are equally user friendly models, and are the choice of many tech gurus like reviewers at CNET online.
Any streaming player will work like Chromecast, Apple TV or Amazon Fire TV, but Roku devices have some distinctive advantages over all other streaming players. The Roku 3 player streams channels like Sling TV better than other similar devices, which is the kind of viewing you want for streaming live sporting events and online concerts with your giant flat screen television. These are some of the most convenient options available amongst the world of streaming player devices.
Step 2: Explore the Choices of Online Streaming Services
Once you have made a choice of streaming player, it is time to consider and explore streaming services.
It is a wild world of uncensored entertainment, movies, TV series, live sports and news coverage from around the globe with online streaming today. Getting rid of your cable television subscription is better, because it no longer means having to sacrifice real entertainment value for affordable TV broadcasting. Still there are so many online streaming services to select from currently, how do you make an informed decision about what services are best suited to your television viewing needs?
Sling TV is one of the best services to sign up for and it emulates most of the major cable TV networks. Sling TV makes all cable TV alternatives seem pale in comparison. Taking back your television through Sling TV is easy, but also a great value.
Sling also offers a free, no strings attached, 7-day trial for new customers as well. They also have offers with new Roku or Apple TV devices as well.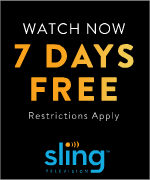 Never feel like you are clicking through thousands of channels, but there is simply nothing to watch on any of them, ever again. Enjoy all the top show and the best of live television without paying ridiculous cable company rates. With Sling TV no home installation is necessary, there are no satellite dead zones and never any hidden fees or charges. All users pay a flat rate of $20 per month for everything regular cable TV charges three times that for, maybe more. All the best network channels including ESPN, CNN, Univision, TNT, Disney Channel, and more of the top TV programming on cable TV. Also watch the top name movies and more on EPIX, AMC , Sundance TV and IFC.
The same is true for sports and news channels, whatever your TV viewing is in the mood for, it is available on Sling TV. So let yourself go where your remote leads you and never look back. Whatever your streaming device services offer is the only limitation for your home viewing pleasure. Make magic happen everyday without every leaving home. This step will make your costs for home entertainment drop significantly, but only stop paying for cable TV.
Now lets talk about free channels, there are more of these everyday as streaming TV grows in popularity.
A number of free channels have already made a name for themselves like Crackle and TubiTV. Most major TV channels have their own streaming versions that emulate the weekly broadcast programming formats, this includes ABC, NBC, CBS, and FOX networks. News streams from TV and media networks like CBS, CNN, MSN, and giants like the Wall Street Journal, Wired and ESPN have their own streaming channels available now. Also users can access free streaming versions of favorite video channel streams from YouTube, Vimeo, and VEVO.
Another thing to remember is all popular devices like Roku, Chromecast, Apple TV, and Amazon Fire TV. Each will work to stream anything, any channel free or paid. A streaming device works in sync with having a home Wi-Fi connection, there is no need for cable TV or subscriptions to such services. Pay services offer special up to the minute or new movies, TV and programming, but at a much lower price than paying for cable TV or any bundled group of services. Netflix and Hulu are each $10 a month approximately, Amazon Prime is similarly priced at $99 annually, and other services tend to fall in this same range.
Step 3: Don't Forget About Getting a Digital Antenna
Somethings never change with the course of technological advancement, thus another cable TV alternative is the antenna reborn from the days of analog signals. Most folks do not have any idea the wide scope of free television stations available with only a fairly high quality antenna. Without one, your ability to receive online streaming channels is stronger than anything in past decades, but with one it allows clear viewing of an incredible spectrum of TV broadcasts locally.
With the right accessibility, your home can probably pick up 70 or more stations, just from your household. This includes national over the air ( or OTA ) broadcast networks like ABC, CBS, FOX, NBC, PBS, but also region based affiliates like ION, CW and smaller stations too. OTA TV stations broadcast prime time shows, local sporting events, regional news, public television and special on air broadcasts. All OTA TV stations are broadcast in High Definition format, being higher quality signals than regular cable TV that uses compressed transmission on most frequencies. And I repeat, all this and more is free.
I recommend the Mohu Leaf 50 Indoor HDTV Antenna for several reasons.
First of all, it is a uniquely capable antenna, technologically speaking. It is an indoor ready antenna, does not rely on rabbit ears making it sleek and stylish for public display. Also the Leaf 50 is made to be installed flat upon any wall surface, because it is paper thin and easily hides behind TVs or other furniture. It could be hung equally easy on a glass window surface, behind a picture frame or any semi-flat location inside a room. This antenna is able to pick up signals and broadcast transmissions from 50 miles away almost anywhere in the United States. The Mohu Leaf 50 is powerful and doesn't need to be pointed in a specific directional position to receive HD channel signals.
So the third little step is simple.
Get an antenna to enhance your viewing options. I highly recommend the Mohu Leaf 50 Indoor Antenna for HDTV quality and user friendly installation.
Step 4: Find Online Deals and Save Money
In addition to the above step-by-step guidelines, there is another aspect that can be a game changer and a money saver for streaming TV viewers. Asking yourself, what about my internet costs? More than any other question, this one impacts many users throughout the USA, due to the pricing of internet services with the bundled cable TV plans and guarantees of high speed internet connectivity.
One way to start saving money is by cutting the costs of your internet service provider. The trick involves a bit of comparison shopping for the local internet service provider deals where you live. No matter what city or state, there will be multiple choices of ISPs in your regional area. Comparison shopping is the best way to get a solid and consistent deal on internet services.
Essentially, you want to use your local zip code and search for results on ISPs in that area, then refine your results based on speed, features, and finally promotional deals. Once you have narrowed the field to a few optimum choices, begin calling each ISP and talk to the sales department to see what their current offers are for new customers. Don't be afraid to tell them that you are shopping around and looking for a service that will beat anyone else's prices, and the winner will get your loyal customer allegiance today.
Even if you already have internet service, it is possible that your prices are due for an upgrade with a yearly downsizing. Smart consumers call their primary service provider at least once a year. Doing this allows the loyal customers to negotiate new rates for their existing plan and lets companies offer annual promotional deals to instill customer loyalty.
Finding online deals for internet service is a bonus step towards saving big money with cable TV alternative options. It also could be the final step in cutting out the middle man, so you can stop paying for television altogether. Cable television as you know it is dead, as is the mainstream media, news, film and video. This is the 21st century and the digital age moves information at the speed of light.
Therefore, the future will not be televised, because the streaming media revolution is going worldwide.